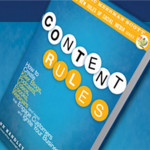 In an interview with Ann Handley, Chief Content Officer of Marketing Profs (360,000 members and the largest community of marketers in the world) and co-author of Content Rules, she talks about the need to create killer marketing content so that you can attract sales leads instead of having to chase after them.
The three takeaways from the interview are:
The answer to creating great content is to tell stories. But not fairytales or bedtime stories. Instead, she's referring to stories that connect, in a tangible way, to what your offering does for the customer.
Afraid of telling stories? Well, don't let lack of customer knowledge stop you. The easy solution is to just go out and talk to customers so that you can find out how your offering eases their pain.
And, lastly, when nurturing prospects, don't shill and talk about how awesome your product is. Instead, be a trusted resource and show how your offering solves customer problems almost at an emotional level.