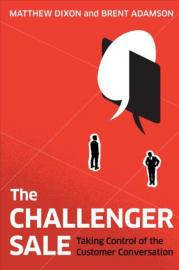 "The Challenger Sale is potentially the 4th biggest sales breakthrough in the past 100-years."
That's a bold statement made by Neil Rackham, the researcher behind 10k salespeople and 35k sales calls in the 70's that lead to SPIN Selling.
To find out why, I just completed a video interview with Matt Dixon, co-author of The Challenger Sale and Executive Director of the Corporate Executive Board. (Click here for video interview).
After interviewing 20k salespeople, Matt said that they found that salespeople fell into 5-catagories; 1) The Hard Worker; 2) The Challenger; 3) The Relationship Builder; 4) The Lone Wolf and; 5) The Reactive Problem Solver.
Read moreThe Challenger Sale: 4th sales breakthrough in the past 100-years?