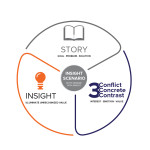 Success stories are effective to use as proof and reinforcement late in the buying cycle once a customer has already formed a complete buying vision that fully recognizes "why change?" and "why you?"
These stories are easy to tell because you're providing proof to a customer who has already recognized that he or she has a problem that your solution can solve. Success stories are effective because they gloss over the problem so that they can focus on the solution as proof.
The problem is that the vast majority of customers at any stage of the sales cycle are not yet sold on why they should change or why they should change through you.
Read moreWhy Success Stories Fail At Selling Change & Insight Scenarios Win