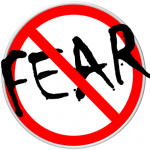 Joel needed new customers. But he found that he wasn't 100% committed when he picked-up the phone, because his fear of rejection made him apprehensive. It felt like he had one foot on gas, and the other on the brake. And because customers sensed that Joel wasn't completely sold, they weren't interested in what he was selling, because no one wants to be rescued by a drowning man.
So Joel's turned to his VP of Sales for advice, but he didn't find being told to 'just suck it up and make the calls' particularly helpful.
Fortunately Joel loved to read, and he was shocked to discover that his fear of calling new clients was due to an overactive instinct of survival.
Elephant jams on the brakes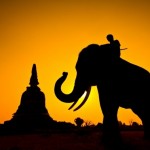 When one of the two operating systems of his mind took control, Joel learned that his instinct of survival went into overdrive. To make sense of these two systems, he used a Buddhist metaphor of a rider on an elephant.  The rider represents his rational/conscious/deliberate system and the elephant represents his emotional/unconscious/automatic system. And figuratively riding a large elephant that has its own ideas on how to do things isn't always easy.
So when the elephant feels that its survival is threatened, evolutionary forces dictate that the elephant's quick automatic process must take over. This made sense when Joel considered that if a saber tooth tiger appears and the rider rationally deliberates its options, it's too late, because you've been taken out of the gene pool.  At the first sign of a threat, Joel was thankful that the elephant automatically starts sending blood immediately from the brain into the arms and legs, so by the time you recognize the tiger you're off and running.
But it's not just fight or flight that causes the elephant to kick in. It's also designed to take charge whenever quick, reflexive, survival behavior might serve you. You've probably experienced this before when you're walking through a mall, and you suddenly smell sugar and cinnamon. And then suddenly you feel an urge from within that whispers "eat the Cinnabun now before it's too late."[i]
But that only made sense thousands of years ago when food wasn't so plentiful. Back then, you had to load up on calories, because eating preserved our species. But today that instinct is killing us, because over eating is now one of the leading causes of death in North America.
It's also no longer helpful that the elephant treats each sign of danger as if it's as life threatening as a saber toothed tiger, especially now that we're safer than we've ever been.
So Joel finally understood why he couldn't just will himself to take his foot off of the break, so that he could dial his way to sales nirvana. It's just too hard for the rational rider to control the elephant by willpower alone, because like a tired muscle, the rational/deliberate rider wears down and caves-in, meanwhile the emotional/automatic elephant runs automatically, effortlessly, and endlessly[ii].
Tricks for dialing to sales nirvana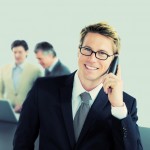 So Joel set out to find the latest and best ways to reduce his fear of rejection, so that the emotional elephant doesn't feel threatened and then jams on the brakes.
The first technique requires that Joel takes a deep breath before he picks up the phone. And when the feeling of fear grows, he's now learned from cognitive based therapy that he shouldn't try to hide or fight it. Instead he should simply turn towards his fear, and follow it[iii]. And because fear only lives in the shadows, it runs for cover when it's exposed. It was just like turning the lights on when Joel was afraid of the dark as a child.
The second technique requires that Joel must sell himself before he tries to sell others. If Joel was 100% sold, he knew that he'd no longer feel like he was bothering customers. Instead he'd believe so much in what he was doing that if a customer said no, he'd feel as if he let them down. What a transformation to go from feeling sorry for yourself to feeling sorry for the customer. And the power of selling yourself first is backed-up by research done by Wharton's youngest tenured professor. Adam Grant reveals in his recent book Give & Take that after call center employees were read customer testimonials they spent 142% more time on the phone, and brought in 171% more revenue- even though they were using the same script. [iv] So every morning for 10-minutes before making calls, Joel would review stories he'd written about how customer's benefited from his product and service.
The third technique requires that Joel must change the rules of sales so that he can win every day. Joel's rule for being successful in sales was that he had to achieve 200% of quota. But at 60% of quota today, his old rule made him a loser. So how was a loser supposed to have the self-confidence to call strangers, and then help them find solutions to their problems? It was nuts.  So instead of trying to control making the sale, Joel started focussing on what he could control; namely, how he could add value to his customers. So he set a new rule that he would have a successful day if he was able to record in his journal 5-examples per day of how he added value to his customers. And as each successful day built on itself, Joel's confidence grew. And pretty soon he was hitting 200% of quota.
All because he did three key things:
He turned the lights on his fear.
He sold himself each morning before he tried to sell others, and
He changed the rules so that every day he was a winner.
But that's Joel's story, what's yours? What do you do to overcome your fear of making calls?
-Michael
---
[i] Your Survival Instinct Is Killing You: Retrain Your Brain to Conquer Fear, Make Better Decisions, and Thrive in the 21st Century, Marc Schoen, p26-28.
[ii] The Happiness Hypothesis, Jonathan Haidt, p18.
[iii] Cognitive Behavioral Therapy for Dummies p 122 "The process of deliberately confronting your fears and staying within the fear situation until your anxiety subsides is known as exposure or desensitization…FEAR- Face Everything and Recover."
[iv] Is giving the secret to getting ahead? The New York Times Mar 2013