2-Day Workshop – Selling Change with Insight 
At the end of the Workshop, salespeople will be able to create & deliver Change Stories and Questions so that they can challenge the status quo and win more business.
DAY ONE
Morning & Early Afternoon:
Change Stories vs. Success Stories
Why customers don't change- Status Quo and Confidence Bias
How to overcome biases with a risk assessment of the status quo and a baseline reality check.
How Change Stories, like a Trojan horse, can get your message past the customer's defensive wall that resists change.
How to create change stories- Insight, Conflict, Concrete, & Contrast.
The majority of the training isn't on Storytelling or Questions, but on filling the stories with the right content and asking the right questions.
Late Afternoon:
People learn best by doing so in the afternoon we will break up into pods of 3-4 participants, and each POD will create and deliver a recent customer win as a 2-minute Change Story.
Before the training, all participants will interview a customer so that they aren't making stuff up in their Change Story. They must be able to share the specific problems/costs/risks to the customer's operation in the absence of having their company's unique capability.
Each pod will then deliver their Change Stories to the group and the group will reflect on the insights. What are the contrasting beliefs, for instance, between customers who change/buy and those who don't?
Based on feedback, each POD will then edited and then redeliver their Change Story.
The edited Change Stories improve by at least 2X and will be captured on video.
DAY TWO
Change Stories will be converted into Change Questions so that salespeople can alternate between sharing stories and asking questions just like a natural conversation.
Once the customer is sold on change, salespeople will then discuss what proof they would use (demo, success stories, third party research etc.) to close the gap.
The demo will be discussed & how it can directly address the customer's story (example).
Each salesperson will work on their own individual Change Story, deliver it, receive feedback, and then redeliver their edited story to their POD.
Different types of stories such as implementation, inserting a unique capability late in the sales process etc.
How to listen & document the customer's new story in a letter to gain access to other key players.
How to process the committee's buying vision towards agreement to an evaluation plan
How to integrate Change Stories & Questions into your sales process.
Each salesperson will create and share their transformational story with their POD.
The top Change Stories can then be edited, and converted into video by Insight Demand so that the tribal knowledge of your top producers can then be shared with the rest of your team (example) through micro eLearning. Each Change Story video could be accompanied by an equally short, two-minute video from one of your company's Subject Matter Experts (example) so that you improve your team's applied product knowledge.
On-going Coaching
After the workshop, we recommend that your weekly sales meeting or QBRs starts off by salespeople sharing their key customer wins as Change Stories.
This is a useful exercise because salespeople use the same skillset to uncover the reasons a past customer bought as they do to determine why a future customer will buy.
Not only will peer feedback improve each individual story, the group will also gain from their pooled knowledge on insights they can share; namely, why are current customers changing/buying.
The result is that sales will be able to share compelling Change Stories that resonate with customers, clarify business value, and create a sense of urgency.
The Change Stories and Questions can then easily be inserted in the SF.com Customer Stories app or simply use a searchable spreadsheet.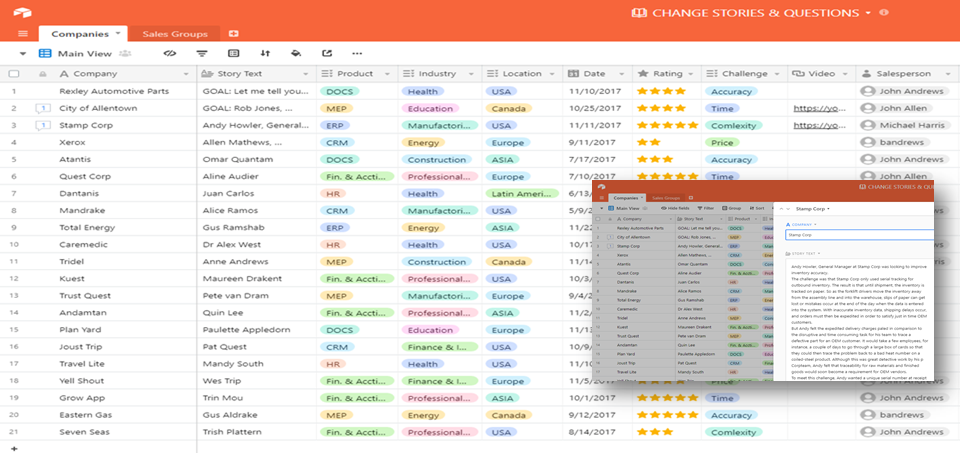 Instructor
Michael Harris is CEO of Insight Demand and author of Insight Selling, as well as the author of one of the most read HBR articles "When to Sell with Facts and Figures, and When to Appeal to Emotions."
The success of this program is much more than filling out a Story/Question  template: It's the quality of instruction and coaching that enables salespeople to deliver Change Stories & Questions that inspires customers to buy.
Next Steps
You can start by either training your whole customer facing team, or by running a pilot with a few key executives. Either way, I look forward to discussing with you how we can work together to help your salespeople challenge the status quo and win more business. Call 416 203 7227 or email: mharris@insightdemand.com
Testimonials
Our Insight Selling clients include such companies as SAP, Hitachi, Epicor Software, Eaton Corp and Transunion Corp (click).