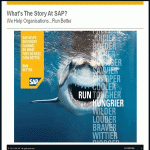 When the world's largest business software company hires a Chief Storyteller, its news, because it's a first for the industry.
And when the decision was made by SAP's CEO, Bill McDermott, it becomes a great story.
Why, for instance, did Bill feel that the role of Chief Storyteller was so important that he personally recruited Julie Roehm 18-months ago for the role?
Why did he hire a B2C candidate for a B2B role?
And with all of Bill's experience (Sales Xerox, President Gartner, Exec VP of WW Sales & Operations Siebel, and CEO SAP), what insights can we gain from his decision?