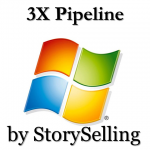 One of Microsoft's largest partners "…increased their pipeline by exactly 3-times in under 18-months largely due to StorySelling. "
Two years ago Gord Smith, a Partner at Ideaca (one of Microsoft's largest partner in Canada), hired a bunch of new salespeople to hunt for new business, because he knew the partners were too busy servicing clients (click for video).
The problem was that the salespeople were high on enthusiasm, yet low on customer knowledge. The result was that they were not gaining traction with new customers, because they couldn't relate their products to the customer's world.
To get better, Gord knew his team needed to get smarter. So Gord had his team go through Insight Demand's Stories that Sell Workshop. But they didn't find the workshop easy. Their stories at first flopped, because before you can close the value gap, you first have to open it! And the vague pain points (i.e. 'time consuming' or 'prone to error') that the salespeople had been using did nothing to open the value gap.
So they left the workshop determined to fill-in these knowledge gaps, but it wasn't easy.  They'd try to set-up calls for more background from the sales engineers, but the sales engineers were often too busy to help. Without revenue, the new sales group was viewed by many as a low priority cost center.
But they persevered, and that's why they are the hero of this story. With time, hard work, and Gord's vision and help setting up these meetings, they improved their customer knowledge which enabled them to better engage with customers. As one salesperson said "We educated ourselves in knowing and actually caring about what we were selling."
So by learning to open before they close, they've been able to increase the pipeline by exactly 3-times in under 18-months. Now senior partners are contacting the new sales group for ideas on how to approach potential customers. And by putting numbers on the board, they've finally earned the respect they deserve (click for video).
-Michael